Issue
You've reviewed your banking statement, and you see multiple charges from Heroku in your account.
Resolution
If you feel you've received multiple charge attempts from Heroku, we recommend reviewing the article in its entirety before opening a support ticket regarding double charges.
Different invoice numbers
If you believe you've received duplicate charges from Heroku, the first place we recommend inspecting is your banking statement -- in closer detail. Heroku invoice numbers are represented in your bank statement by the month of the charge, followed by a number. For example, JUL-1234567 refers to invoice # 1234567 that occurred in July.
Heroku stores invoice numbers on each month's invoice, as shown in the example below: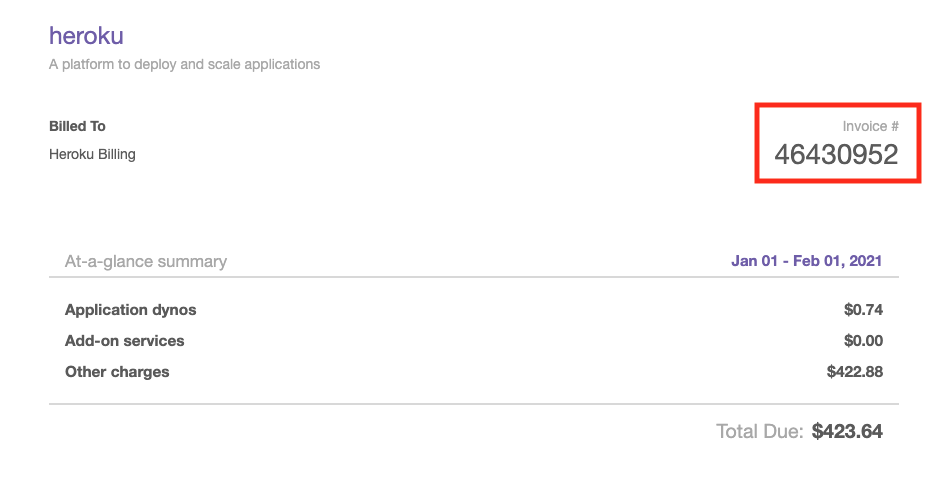 If your bank statement shows different invoice numbers for each of the charges, this is an indication that the charges are not duplicates, but rather charges from different months. Once you've isolated the different invoice numbers, we recommend moving onto the next section.
Team charges versus Personal account charges
Heroku Personal accounts and Heroku Teams store invoices in two separate locations within the Dashboard. We recommend checking both locations in the Dashboard to locate the source of your charges.
As a courtesy, we've provided this helpful article that explains how to locate each set of invoices in your account: https://help.heroku.com/KANEH8I1/where-can-i-find-my-invoices
Multiple charge attempts
If you have a Heroku invoice that has been declined, Heroku will attempt to charge your card a total of 4 times automatically. Each attempted charge can present itself as a "Pending" charge in your bank account. However, since charges of this nature are not successful, they will be removed automatically within 5 - 7 days depending on your banking institution's practices. If you have any questions or concerns about this practice, we recommend reaching out to your bank for further explanation.